Land Furniture:
A series of chairs made at Nance Klehm's residency Chop Wood Carry Water in the Driftless Region in Freeport, IL.

Materials that were not collected or harvested on the property include cotton kitchen twine, nails, wood glue and hardware.



REED CANARYGRASS CHAIR

Woven from the flowering stems of Reed Canarygrass, an aggressive, invasive prairie grass that was introduced to the area as cattle feed, this chair is the most delicate and features the most (misused) hardware. Other materials include cattails, native sunflowers, and tree branches. A string dyed with pokeberry ink binds the grasses in bundles along the right side, and the red from the ink bleeds into the surrounding grass fibers.


TENDRIL CHAIR

Made from scavenged tree branches, rough-sawn milled wood, kitchen twine, wire mesh, a wire spring, and grape vine tendrils, the Tendril Chair is the sturdiest of the three. The wire mesh on the back is for inserting flower arrangements, which will wilt and dry (pictured with an arrangement of prairie grass). The grape tendrils woven into the backrest grow along the road to Nance's house, and remind me of my mother's curls.


POND PAPER CHAIR

The Pond Paper chair is clad in a naturally occurring paper that forms in the prairie at its lowest point, as water there moves, gathers and recedes. The overall dimension of the pond has increased significantly in the 7 years Nance has lived on the property, a result of the permaculture work she's done, rehabilitating the native landscape. As the water disintegrates and pulps the surrounding grasses, new and dried fibrous grasses weave through it, and it coagulates into a thin, nest-like ecosystem for snails, algae and microorganisms, until it is left to dry and harden in the sun. I submerged the paper in water before wrapping it around a wooden chair frame made from tree branches and a milled pine seat, and sewed it together with kitchen twine, leaving white bows exposed at the back.



All chairs were made with a "creative problem solving" approach to the materials at hand, and did not have plans, sketches, or visualizations prior to their production and completion. The Tendril Chair and the Pond Paper chair can both hold corporeal weight, while the Reed Canarygrass Chair is too fragile to be sat upon.


From L to R: Tendril Chair, Pond Paper Chair, Reed Canarygrass Chair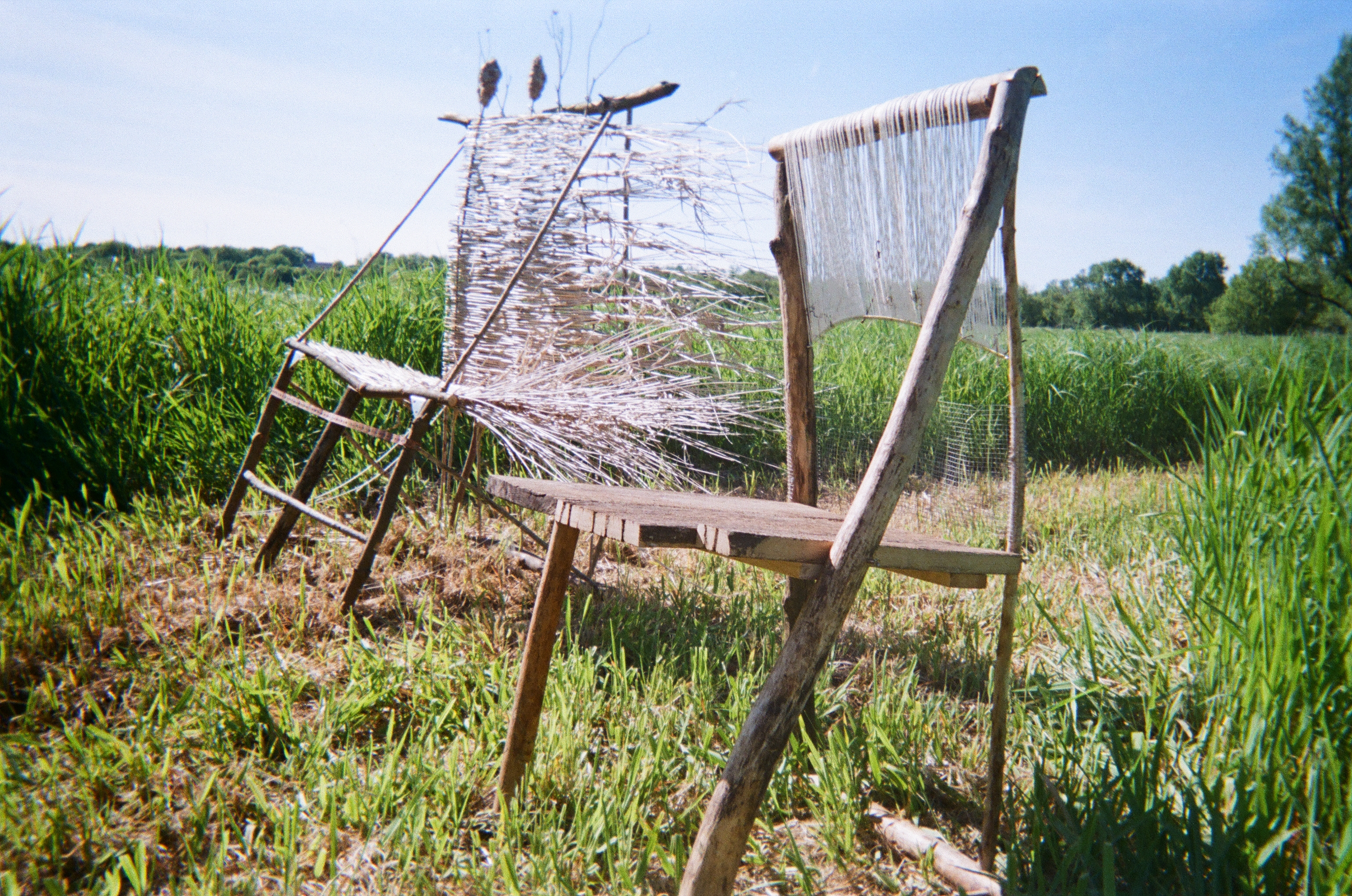 The Reed Canarygrass Chair and the Tendril Chair out in the prarie
Naturally occuring pond paper amid the reeds
Grape tendril detail on the Tendril Chair, woven into the kitchen twine
Prarie grasses woven into the wire mesh on the back of the Tendril Chair
The Reed Canarygrass chair in production
Reed canarygrass in the prarie
The Pond Paper Chair, still drying and hardening in the sun
Back detail on the Pond Paper Chair, with white bows where it is held together